Choosing a new front door can be exciting—but it can quickly become challenging when faced with the number of options available. From door materials to panel designs and everything in between, there are many factors to consider when making a selection. However, one of the most important considerations is the architectural style of the home.
Some door types or colors synergize with certain home styles better than others. In fact, the front door can play a major role in tying the entire aesthetic of the home together.
One of the most common home styles is the ranch house. If you're building a ranch home, or living in one already, you may want to consider a front door that pairs well with the ranch style. Let's take a look at a few tips to guide you along the way.
What is a Ranch-Style Home?
First, let's take a look at what differentiates a ranch-style home. While the ranch home originated in the American Southwest, this home style can now be found across the United States. The specific design may vary by region, but the general characteristics remain the same throughout.
Most commonly, ranch-style homes are known for being a single story. They also typically feature open concepts to maximize space, as well as an outdoor patio or deck. Though the homes only have one story, many ranch homes feature a finished basement to add more space.
Ranch homes are typically rectangular. They generally feature large windows in the front of the home, and many include a sliding glass door leading to the patio or deck area. In many cases, ranch-style homes also feature attached garages.
How to Choose a Ranch-Style Home Front Door
Let's take a look at some of the most important factors when choosing a front door for a ranch style home.
Type of Ranch Home
There are a variety of ranch homes types that feature their own spin on the classic design. The front door you choose can ultimately depend on which type of ranch home you have.
For example, a California ranch is designed to highlight the natural features of the space, often using the surrounding environment to accent the home. In this case, choosing a natural grain or rustic-style front door would be ideal to compliment the natural features.
Conversely, a storybook ranch features a completely different design focus. Storybook ranches incorporate ornate and decorative designs to create a whimsical aesthetic—hence their other name, the fairytale ranch. In this case, opting for a highly decorative front door featuring eccentric door glass would be more fitting.
Classic vs. Contemporary Styles
Ranch homes have been popular for a long time—long enough that some are now choosing to recreate the classic charm of the style. Whether it's revamping an older home or simply building with that mid-century, 1960's aesthetic in mind, ranch homes are a great option for warm, vintage colors and textures. If this is the goal, going with a timeless woodgrain front door will work well.
However, ranch homes aren't limited to their roots. Many ranch homes now include a modern twist, with contemporary design elements incorporated into the style. While these homes can vary widely, opting for a modern-style front door such as a smooth skin fiberglass door can accentuate the contemporary elements. Color will depend on the home, but consider trending front door colors like red or seafoam green.
Natural Light
One of the hallmark qualities of ranch homes is natural light, being that they often feature large windows and a glass patio door. This goes perfectly with the open concept, as natural light will make the space look larger, brighter, and more inviting.
Because of this, it may be enticing to choose a glass front door to add more light to the space. However, door glass typically adds to the cost of the door. Therefore, it may be a more cost effective option to save on a door with no glass, being that the windows should take care of the job.
However, if the design of the ranch home features less windows or smaller windows, then opting for a glass front door can help enhance the space. The benefits of natural light are plentiful, and increasing your budget to get the most out of your home can be worth it in the long run.
Personal Preference
At the end of the day, choosing a ranch-style home front door should be about getting the look you want. Because ranch homes are a versatile home style, there are numerous front door styles that will fit well into the design. Consider elements like climate and energy efficiency in your decision, and then choose the style that best suits your design needs.
Get Your Next Front Door from Plastpro
Fitting your ranch-style home with a new front door doesn't have to be difficult. Consider the factors above in your decision, and then opt for the design that best suits your individual style and needs.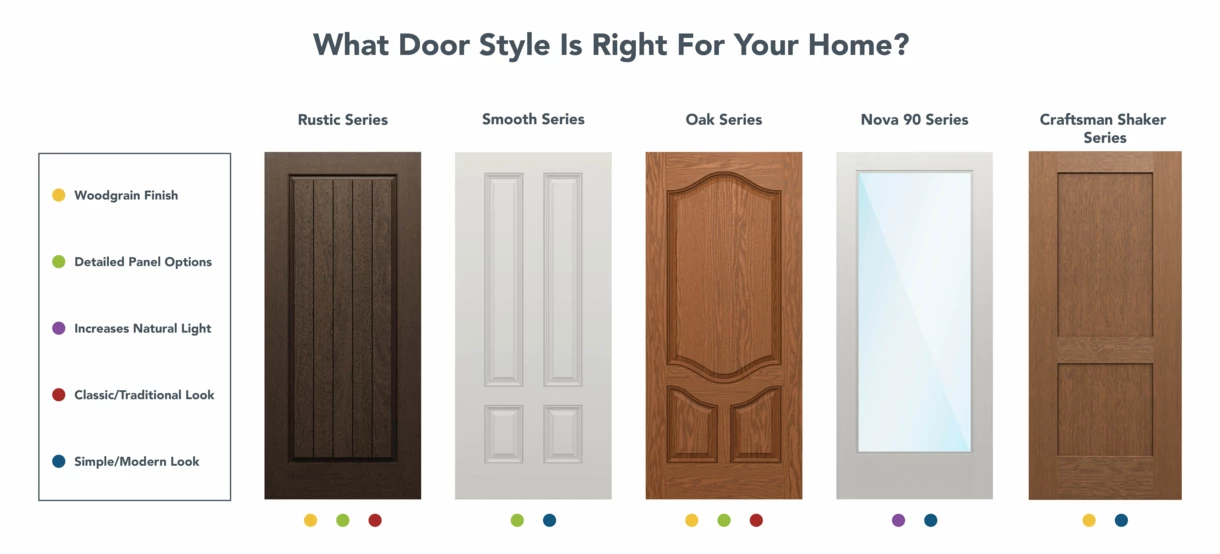 Plastpro's lineup of fiberglass doors are a great option for any home—including ranch homes. With various door skins, door styles, and door glass options to choose from, it's easy to find the perfect door to fit your home and your needs. For example, Plastpro's Oak Door Series can enhance the classic charm of a vintage ranch home, while the Nova Door Series is great when additional natural light is needed.
No matter which series you choose, Plastpro doors come backed with features like a proprietary, high-density door core for enhanced energy efficiency and door security, as well as Hydroshield Technology to stand up against the elements.
Find out where you can get a Plastpro fiberglass door today by visiting our Where to Buy page, or try our Doorability tool to see a Plastpro door on your home.