Whether you're planning a home makeover, sprucing up your entryway, or trying to boost your home's curb appeal, you might be considering changing up your front door's color. Choosing a front door color might seem like an easy, personal choice—and it can be—but there are a variety of factors that go into making this decision, especially if you're trying to re-sell your home.
If you're trying to stay up to date, knowing the current trends for front door color is especially important. A front door can change the entire look of a house, whether it's a new door or has simply been re–painted with a new color.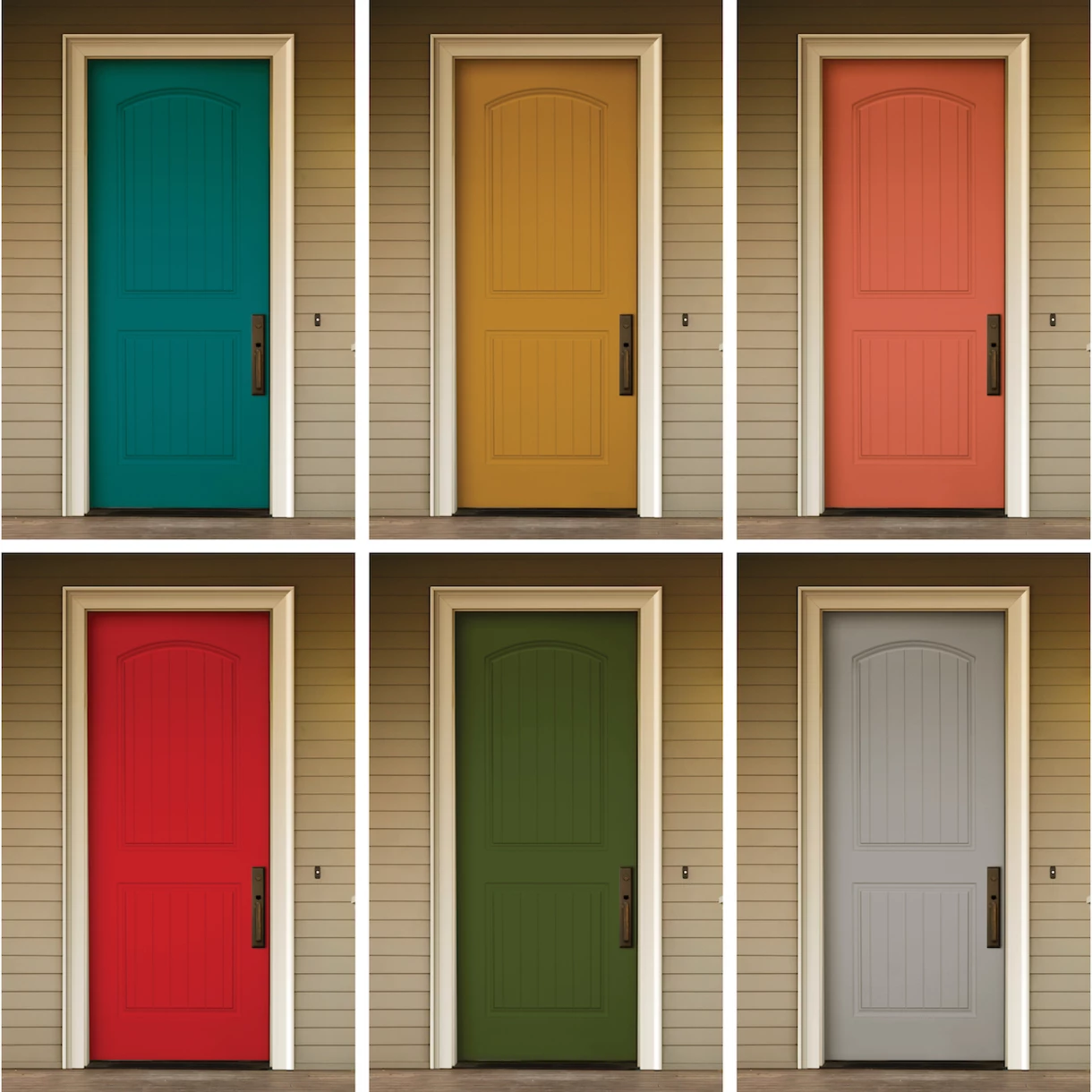 Choosing a new color for your front door depends on a variety of factors: your home's architectural style, the color of your home, and your personal tastes. While a certain color might appeal to you personally, it's important to think about whether or not that color will complement your home's exterior. That being said, here are six of the most popular door colors. Before choosing a paint, be sure to check with your manufacturer's warranty and care and maintenance information, to ensure you choose the right type of paint and don't void your warranty or damage your door.
Seafoam green
Seafoam green—whether a bright hue or a more muted tone—can offer a nice accent to the exterior of your home. A seafoam green front door usually pairs best with a neutral exterior color such as white or gray. Depending on the undertone, this can even work well with a brick home.
Coral
For a cheerful statement, coral can be a great choice for your front door color. This pairs well with an exterior that has light, neutral colors such as white, tan, or gray and gives it a pop of color. Or, it can even add a nice contrast to a house that's painted with green or blue tones.
Light Gray
A light gray door can offer a classic, elegant look and is one of the most versatile colors, as it goes well with a wide variety of architectural styles and colors, from Victorian to Contemporary to Cottage-style. If you're not looking to make a statement with your front door, light gray offers a subtle, yet gorgeous, look.
Bright red
A bright red front door is one of the most popular colors right now, and for good reason. It's bold and vibrant, easily catching the eye of anyone who passes your house— it certainly will boost front door curb appeal. A red front door is best suited for a light, neutral house (white or gray) or a house with a brick exterior.
Teal
For another bright and cheerful color option, you can almost never go wrong with a teal front door. Teal can work with nearly all home styles, but it'll offer the most crisp, dazzling appearance against a white or stone house. It can even be a great statement piece against a brick house.
Mustard
A mustard or similar shade of yellow can brighten up your entryway and add a warm pop of color to your porch. Yellow is another versatile color, going well with many home styles or colors, from a dark gray modern house to a white Victorian home.
Finding a customizable door
Choosing a new front door color is a great way to express personality or creativity through the home. If it's not time for a replacement, painting the door is an easy solution for updating your entryway. For more information on painting doors, check out Plastpro's guides on painting woodgrain or smooth skin doors.
When it's time for a replacement, opting for an easily customizable door will make it easy to get the right color. Plastpro's Smooth Skin Series can be easily painted to accommodate any style or preference. Alongside this added customization are all the benefits of Plastpro's fiberglass doors, such as superior durability, security, and energy efficiency. Plastpro's blend of style and performance will make any entryway stand out.
Check out Plastpro's Where to Buy page to find a dealer near you, or try out our Doorability tool to start customizing today.