Your front door fulfills so many different roles for you, your family and your home. It acts as a first impression for visitors and members of the community who may walk or drive by. It welcomes you back to your home after spending time away. It serves as the focal point of a dwelling's front-facing design, informing other stylistic choices like overhangs and landscaping. Possibly most important of all, though, is its role in keeping the residency's inhabitants safe from incursion.
Since the main entry door usually does draw attention to itself through appearance and accessibility, it can become the first place undesired, dangerous visitors try to break and subsequently enter. That's why home security begins with a secure front door, but when it comes to high security, not all doors are created equal. If you're looking for reliably secure material in the world of exterior doors, there are options that have proven safer than others.
Wood Doors
Wooden doors have certainly withstood the test of time, remaining one of the most popular entry door material options in the modern era. However, wood doors need a little help withstanding time itself.
The integrity of a wooden door could be compromised if it isn't properly cared for—bowing and warping can weaken the door, making it susceptible to forced entry. Upkeep is critically important to a wooden door's integrity, with proper finishing and diligent refinishing acting as the main method of reinforcing the door against elemental attack. Be sure to coat the side of the door, along with the top and the bottom, to better protect against moisture.
The best option to help ensure a wood door withstands any other sorts of attacks is a solid wood door. A product carrying that term usually has a thickness of 1 3/4" and will provide reliable protection from unwanted visitors. A solid wooden door is also more energy efficient than its thinner counterparts, somewhat addressing one of the wood door's biggest drawbacks. However, wood doors, especially solid wood doors, often come at a premium price making them less accessible to homeowners on a budget.
Steel Doors
If you're in the market for a secure front door, steel doors provide an extremely viable option since they're going to endure dents, scratches and other blemishes without compromising the integrity of the door. With any violent blows inflicted upon them, they aren't very likely to come down—especially if they're installed in tandem with an equally strong locking system, like a deadbolt.
In terms of cost, steel doors can be the easiest initial investment. That savings will equate to higher monthly expenses, though, as exterior doors made with steel aren't as energy efficient as entry doors made with fiberglass. Steel doors also offer less styles than their competition, despite many adopting the panel look made popular by wood entry doors in an effort to offer some texture and dimension. Steel doors aren't entirely safe from the elements, either, as they are susceptible to rusting and easily show cosmetic damage like dents and scratches.
Fiberglass Doors
Doors crafted from fiberglass are very similar to steel doors in the durability department, but they won't dent and are harder to scratch than a steel door, plus they're extremely difficult to snap or crack. Weather isn't an issue for them either, as they're built to withstand intense conditions for long periods of time with little-to-no maintenance compared to wooden doors. They can be finished, sanded and refinished, but the materials they're crafted from means they're inherently better equipped to withstand the elements than wood or steel.
Fiberglass doors can present a higher barrier for entry than other options, but they also boast a higher energy efficiency than both steel and wood exterior doors, helping keep regular utility costs low. Purchasing a door that's aesthetically pleasing is easier with fiberglass doors, as the material can be formed into a number of different shapes mimicking everything from classic wood mainstays or modern sheer designs. Plastpro has a service that works with homeowners to provide custom fiberglass doors for their homes, no matter the size.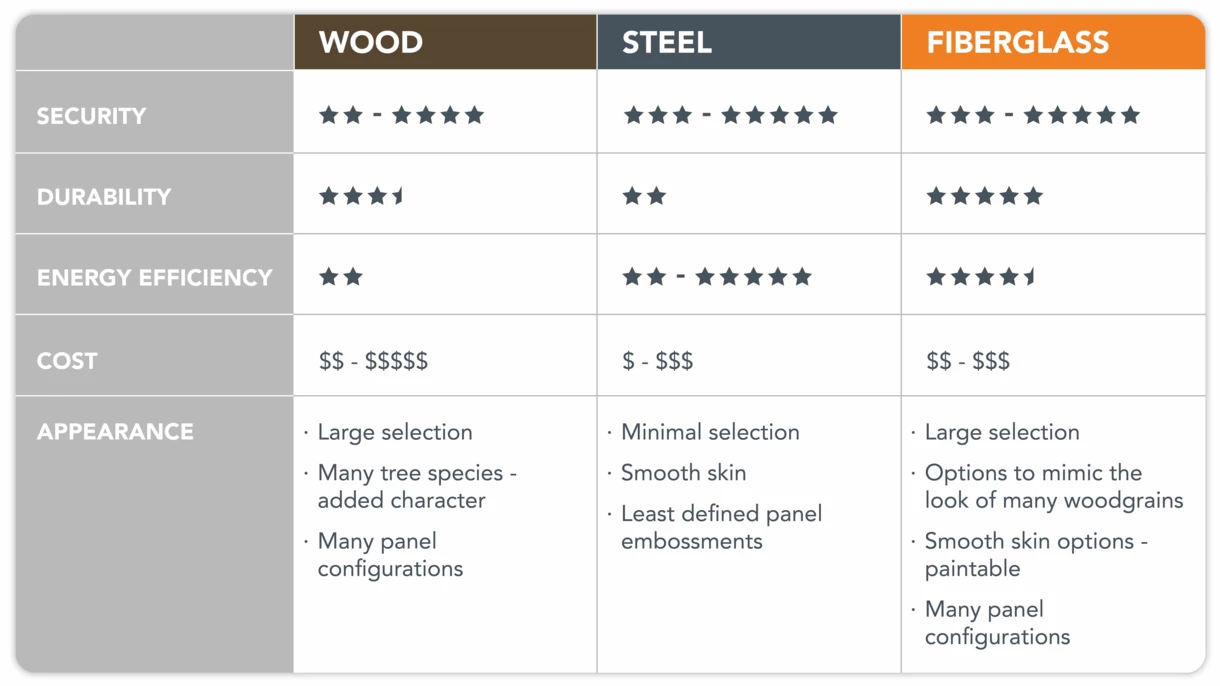 Additional Security Measures
Homeowners can take steps beyond their front door material to add layers of security to their home.
Consider a lock system that goes beyond the basics, such as the aforementioned deadbolt. Maintain a well-lit entryway free of obstructions so any potential intruder can be seen. Invest in one of the many affordable home security systems on the market and consider purchasing a fiberglass door created to stand up to the harshest of conditions.
Other Factors to Consider When Purchasing a Door
Safety is important, but if doors match similarly in that department, which other criteria can be counted on during the purchasing process?
It's been a point made throughout, but energy efficiency can keep your family comfortable while keeping utility costs low—and fiberglass doors do it better than any others. On top of their contributions to lower energy costs, fiberglass doors hold up well to extreme weather, everyday wear and tear, and even violent attack. Finally, fiberglass doors can mimic traditional designs, provide your home with a striking modern look or be customized to fit your particular needs. This list touches on almost all points homeowners are looking to cover when pursuing a new door.
Get Secure and Long-lasting Doors with Plastpro
With 1 million fiberglass doors produced a year bearing the Plastpro name, it's safe to say a large number of homeowners rely on these doors for the security of their households. It's also a safe bet that working with that many fiberglass doors strengthened the company's knowledge when it comes to producing a time-tested product that'll last. Explore your fiberglass door options at a Plastpro dealer and begin enjoying the benefits of fiberglass entry doors!