Sustainability is more important than ever, and many people and businesses are putting renewed focus on the environmental impact of products and processes. In construction, this can range from earning certification for meeting LEED requirements all the way down to the individual building elements chosen.
Whether you're designing a new home from the ground up or you're searching for ways to make your existing home more sustainable, there are many steps to take in creating an environmentally conscious home. One important consideration is choosing eco-friendly exterior doors.
Doors can play a major role in the overall eco-friendliness of the home. Let's take a look at how to choose an eco-friendly exterior door.
Choosing an Eco-Friendly Exterior Door
Finding an eco-friendly exterior door isn't difficult as long as you know what to look for. Here are the most important factors to consider.
Door Material
Door material is arguably the most important consideration when it comes to eco-friendliness. This includes not only the material itself, but also how it's sourced. For example, wood is a natural resource and can be an eco-friendly choice—however, it can be difficult to find sustainably sourced wood doors.
Steel doors are often made from recycled materials, making them a good eco-friendly choice. That being said, fiberglass doors are also made from recycled materials, and they are generally more durable when compared to steel doors. Fiberglass is resistant to dents and scratches, two common issues for steel doors.
Therefore, fiberglass is typically a highly recommended material when it comes to eco-friendly exterior doors—especially because they also perform well in our next category.
Energy Efficiency
Energy efficient doors will help reduce energy consumption, contributing to a more sustainable home. Therefore, eco-friendly exterior doors should be extremely energy efficient.
Door material influences the overall energy efficiency of an exterior door, but it's not the sole determining factor. Fiberglass doors generally perform exceptionally well when it comes to energy efficiency, but buyers should also research the specific door core used. A high-density foam core is a great choice for maximum energy efficiency.
Additionally, door glass can also be a major source of lost energy, but LowE glass can be a good eco-friendly alternative. LowE glass features specialized coating that helps minimize heat transfer, keeping internal temperatures comfortable and steady.
To ensure the door meets energy efficiency standards, only choose a door that is ENERGY STAR rated. This denotes that the door meets federal guidelines regarding energy efficiency.
Door Manufacturer
Choosing an eco-friendly exterior door should also include more than just the door itself. Choosing a door from a manufacturer committed to sustainable production means supporting overall positive environmental well-being.
Look for manufactures that specifically use sustainable practices and materials, not only for their doors but for all their products and services.
Why Choose Eco-Friendly Exterior Doors?
It's true that eco-friendly exterior doors and other materials generally cost more, and it can be tempting to attempt to maximize budget by choosing less sustainable options. However, there's more to take into consideration.
While the initial cost may be substantial, investing in eco-friendly exterior doors—and most other eco-friendly home choices—will result in long-term savings that will greatly surpass the initial savings of less sustainable options.
One of the biggest sources of savings: energy. Because eco-friendly exterior doors are extremely energy efficient, the cost of heating and cooling will be lower. Over time, the yearly savings on energy bills will eventually surpass the initial price difference. A truly sustainable home—complete with eco-friendly doors, windows, appliances, and energy sources—will result in major long-term savings, making it an increasingly attractive option for homeowners.
Plus, while saving money, homeowners investing in eco-friendly options are contributing to the greater health of the environment, making it a win-win.
Check Out Plastpro's Eco-Friendly Exterior Doors
When it comes time for an eco-friendly exterior door, look no further than Plastpro. Plastpro's lineup of fiberglass doors are made with sustainability in mind. Each door features a proprietary, high-density polyurethane foam core that provides superior insulation and energy efficiency. Not only that, but the cores are developed in compliance with the EPA's Snap 20 regulations and without volatile organic compounds (VOCs).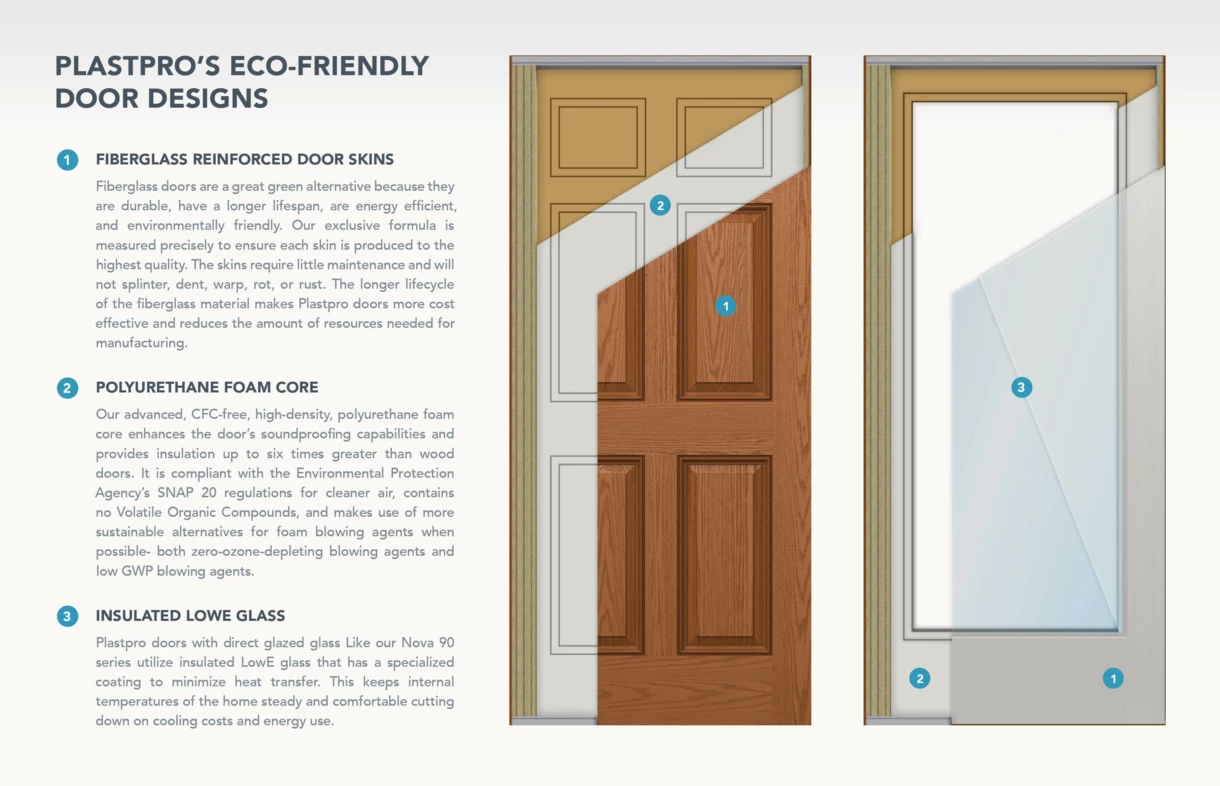 Plastpro's fiberglass doors are built to last a lifetime—minimizing waste and reducing the overall long-term cost of the door. Combined with the savings on energy, Plastpro doors are a cost effective choice that can't be beat.
To learn where to get Plastpro's eco-friendly exterior doors, visit our Where to Buy page.